Locavore and proud of it !
Where do the food products that our guests consume with us come from? For the vast majority of Périgord. It is a desire on our part to consume local and we proudly claim it.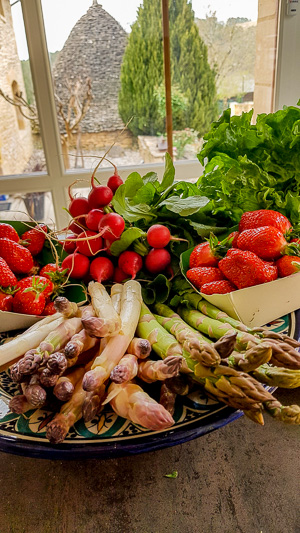 First of all, this gesture allows us to reduce our carbon footprint and to participate at our level in the protection of the environment.
Thus, on our table you will find fresh products from the Ferme de Vialard. This group of small producers (market gardeners, breeders, various producers) has been a precursor of the short circuit since 2005. In the shop, held in turn by its members, we find meat, dairy products, cheeses, fruits and vegetables, organic bread and cakes, jams, eggs, preserves, cakes and ready meals, drinks and even beauty products and ancient seeds. In short, a real place of supply where you can find quality organic products or products from sustainable agriculture. So if you come to us, do not hesitate to go and get your supplies there to bring back in your luggage some delicious products made in Périgord.
It goes without saying that this implies respect for seasonality and the local. This is why we will serve you asparagus in April-May but not in July-August. Of course no bananas even if the climate of La Roque Gajeac is successful for bananas tree! On the other hand, delicious strawberries from Périgord.
The wine we offer comes from the Domaine de Combrillac owned by a young talented winegrower.
The craft beers  and also the organic lemonade comes from  Brewery 24 in Sarlat.
We ourselves pick fruit from the trees  and processed by Eric our master jam chef.
The breakfast cakes are homemade as well as our delicious yoghurts.
In short, in our guesthouse, we consume local and homemade to the delight of our guests.
In the morning, between 8:30 a.m. and 10 a.m., a delicious breakfast awaits you: homemade pastries (concocted by Nathalie), jams (prepared by Eric), homemade yogurts, fruits and vegetables, cheeses and country ham, fresh fruit juice , eggs (boiled, scrambled or fried on request), hot drinks (Damman tea, coffee, chocolate).
* breakfast is included in the price of the night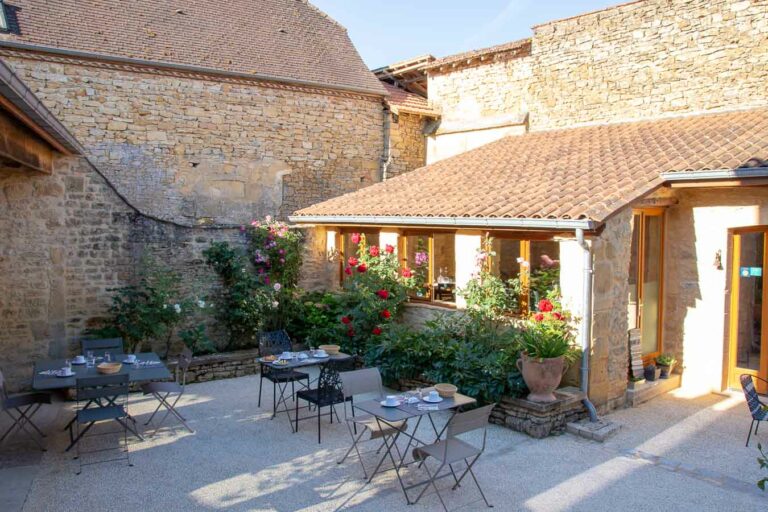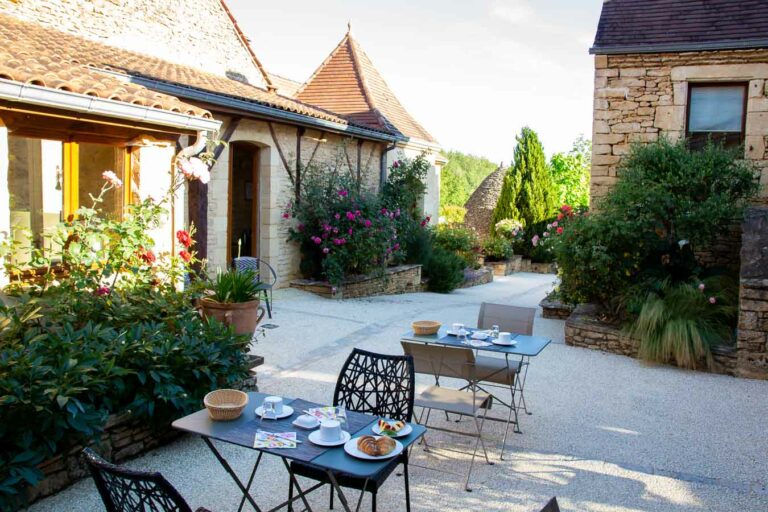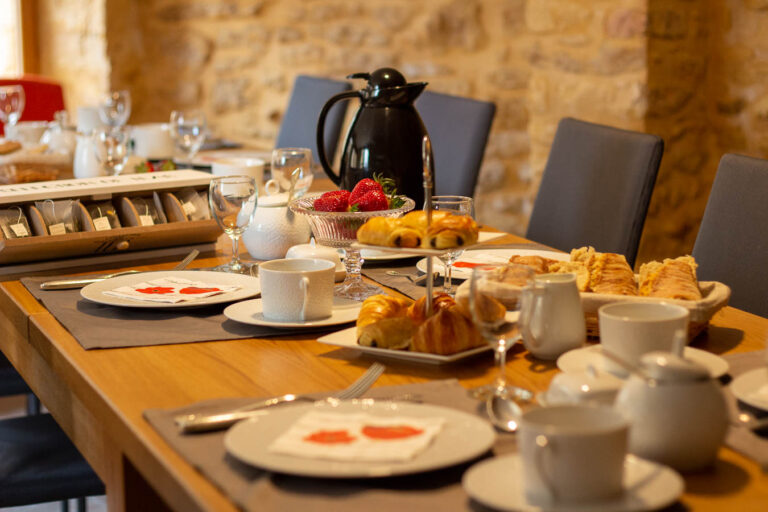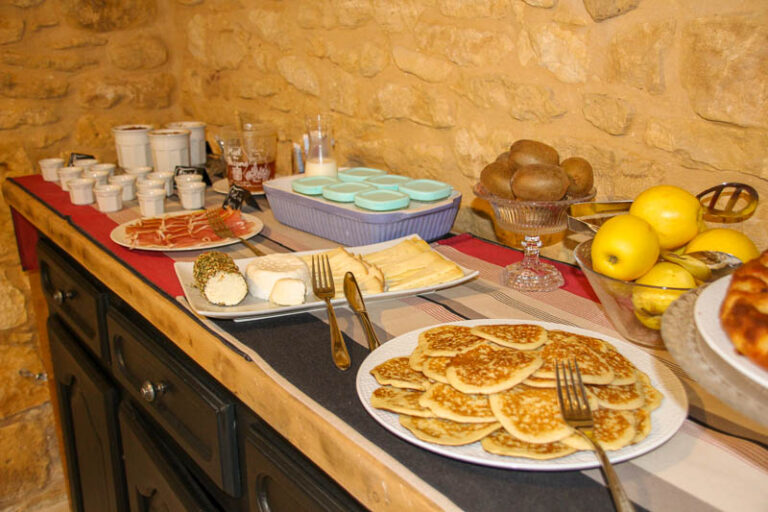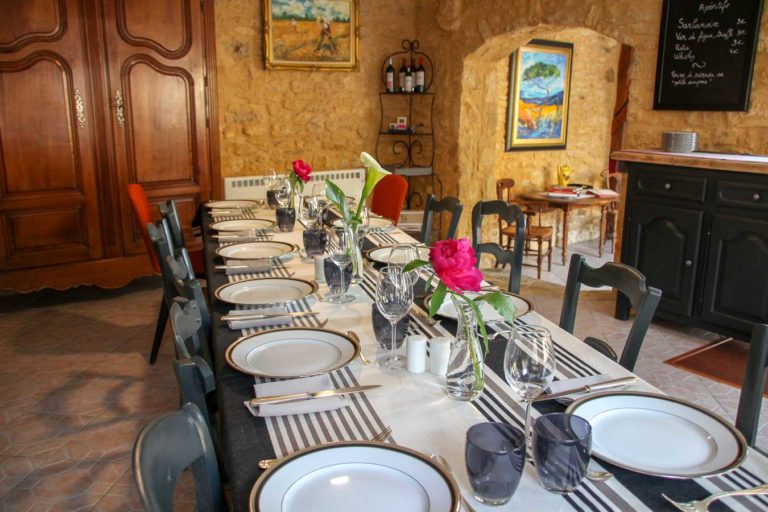 34€/ppl. excluding drinks – Wines and wine pairing on the wine list
The table d'hôtes is proposed sometimes during the season (minimum of 6 participants). You will find various typical products of the Périgord region on your plate. Eric and Nathalie preferentially choose local products, in order to make you discover the culinary specialties of our beautiful region.
Depending on the season, you can taste various local specialties depending on the market supply.
Menu: a local aperitif, starter, main course and dessert.
N.B. : to know the dates of the sheduled tables d'hôtes, please contact us.
27€/ppl. excluding drinks – Wines on the wine list
We offer you 1 to 3 evenings a week (Monday, Wednesday or/and Friday) our gourmet plates based on local products served at 7:30 p.m. outdoors or in our dining room depending on the weather.
You have two choices:
La Sarladaise : foie gras for fans, an assortment of cold cuts and Périgord cheeses
Les Bories Smoked Trout : house-smoked trout from the Eaux de l'Inval fish farm and Périgord cheeses
with a fresh seasonal salad and a fresh dessert
If there's a sheduled table d'hôtes, the gourmet plates will be not available.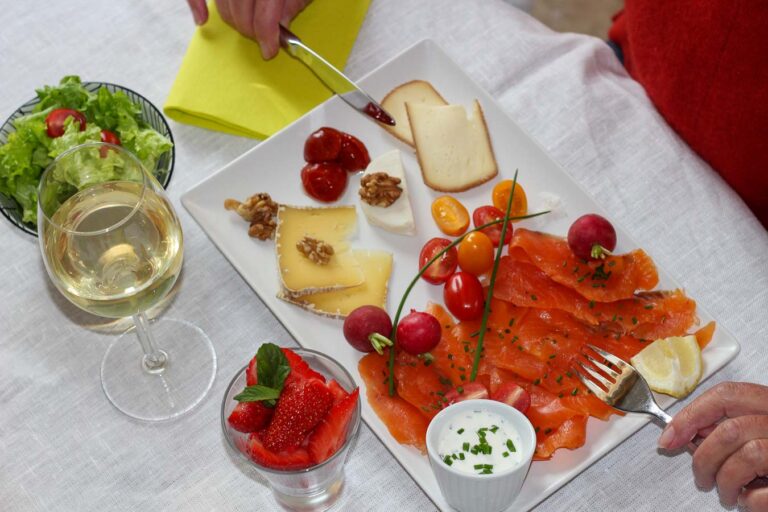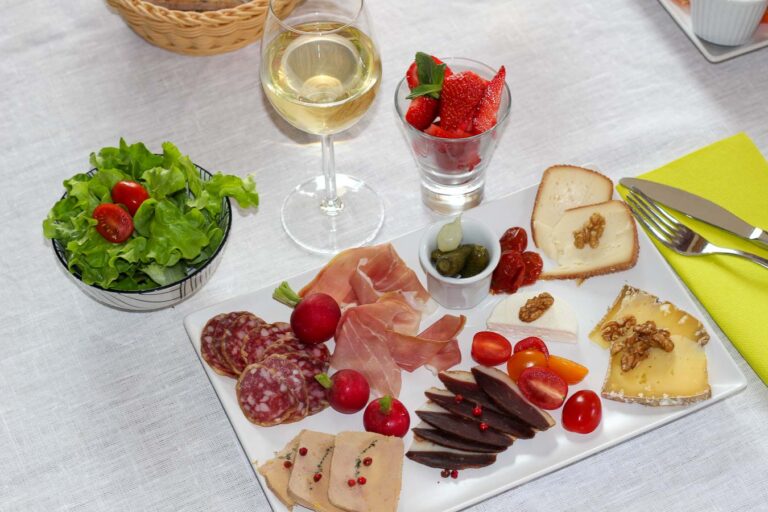 Our choice of restaurants
We've selected a few addresses that we've tried and tested… while bearing in mind that everyone has their own criteria when it comes to the pleasures of the table.
You will find our selection in the digital welcome booklet sent to you after you have made your reservation.
If you choose one of the addresses selected by us, remember to book your table in advance, especially in high season.