Let's get to know...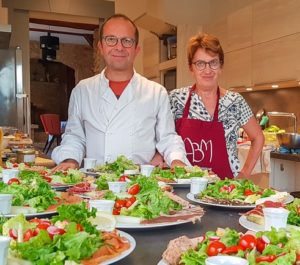 Born, one in Bordeaux, the other in Limoges, we have never ceased to hope for a return to our native South West when professional imperatives have kept us away for 17 years.
The advent of the New Aquitaine signed our return and we chose the Périgord to put down our suitcases. Falling under the spell of "Aux Bories de Marquay" from our first visit, we have the will to continue to make this place live. What better way for this than to welcome guests and share with them our love of this beautiful property.
Nathalie et Eric
"Aux Bories de Marquay" is quietly located in a small hamlet in the heart of Perigord Noir less than 10 minutes from Sarlat, city of art and beautiful medieval city whose historic center is a UNESCO World Heritage Site.
In an old farmhouse typically Perigord, fully renovated in 2018 and equipped with a jacuzzi 7 places, three double rooms and two master bedroom suites are there to welcome you. On the property, there are two beautiful bories remarkably preserved (borie dry stone construction that could serve as barn or stable, whose form is included on our logo).
It is the land of enchantment jealously marked by poets and only they have the right to claim as theirs. Which is closest to paradise.
Henry Miller about Périgord
Our central location in the Périgord Noir will allow you to access very easily all points of interest of our region. In 15 minutes, go to the Vézère valley to go back to the time of Cro Magnon: discover the prehistoric caves of Lascaux, Eyzies, Combarelles and many others (the valley has 25). If you prefer medieval times or the Renaissance, Périgord is also nicknamed the "region of 1001 castles": Beynac, Commarque, Castelnaud among others you reach out. Go stroll among one of the "most beautiful villages of France" such as La Roque Gageac or Domme. Sports enthusiasts can enjoy great hiking, canoeing on the Dordogne or Vézère, or cycling on the greenway Sarlat / Cazoulès.
Our accommodation
We welcome you in one of our 5 comfortable air-conditioned rooms including 2 family rooms (4 persons).
Our 7-seater spa is available to all.
Discover our picture galleries