Let's get to know...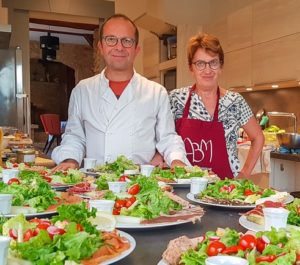 For 17 years, we have lived far from our native Southwest Region always hoping that we will come back one day. In 2018, our dearest wish was granted : we settled in the Dordogne. Even more, we put into practice what we learned from our travels, make beautiful meetings and share moments with people from  all over the world.
Our guest house "Aux Bories de Marquay" is ideally located in the countryside in the heart of the Périgord Noir, less than 10 minutes from Sarlat, a superb medieval town listed as a UNESCO heritage, where you can admire splendid stone buildings either on day light or at night with the romantic gas lightening.
The old typical Perigord farmhouse, completely renovated in 2018 and equipped with a 7 places hottub, offers three air-conditioned double rooms and two air-conditioned family suites.
If you want to be more independant and have the possibility to cook your own meals while enjoying the surroundings of our property and the hot tub, we rent a 4 people holiday cottage
The name of our guest house comes from two magnificent bories remarkably preserved (borie: dry stone construction which could serve as a barn or stable, whose shape is reproduced on our logo).
It is the country of enchantment which the poets have staked out and which they alone may claim to. It is the nearest thing near Paradise.
Henry Miller on Périgord
In the morning, after a delicious breakfast made up of fresh and homemade products, you will be able to radiate and organize your visits efficiently (with our help if you wish).
Our central location in the Périgord Noir allows quick access to all the remarkable sites of the Dordogne. In 15 minutes, go to the Vézère valley and return to time of Cro Magnon: discover the prehistoric caves of Lascaux, Les Eyzies, Font de Gaume, Combarelles and many others (the valley contains 25 sites) . If you prefer Medieval or Renaissance period, Périgord is also nicknamed the "region of 1001 castles": Beynac, Commarque, Castelnaud among others offer you jewels of architectur. Go for a stroll among one of the "most beautiful villages in France" such as Roque Gageac or Domme. Sports enthusiasts can enjoy superb hikes, canoe trips on the Dordogne or Vézère rivers, or even cycling on the Sarlat / Cazoulès greenway.
If you are staying for several days in our guest house, why not take the opportunity to visit the Padirac chasm, Rocamadour, Collonges la rouge, the Bergerac vineyard, ... These prestigious sites are approximately 1 hour and 15 minutes' drive from BnB Aux Bories de Marquay.
In the evening, after your visits, what could be more pleasant than relaxing in our hot tub before envjoying a "little supper" or a "table d'hôtes"
The latest reviews from our hosts
Magnifique propriété aménagée avec goût et énormément de soins. Chaque détail est réfléchi avec de très belles chambres de grandes qualités. Excellent emplacement à quelques kilomètres de Sarlat, ville splendide!
... read more/>
Eric et Nathalie nous ont accueilli avec beaucoup de gentillesse.

lru33
12/15/2019

Très bon séjour pour finir cette année 2019.
Merci aux propriétaires pour le bon accueil et les conseils sur les lieux à visiter.
Chambres très propres, lits confortables et petits... read more dej copieux. On reviendra !

205louist
12/31/2019

Nous avons séjourné en famille dans le tout nouveau gîte rénové par Eric et Nathalie.
C est superbe , très confortable et tout est fait pour que rien ne manque... read more pour une famille de 4 personnes.
Propreté impeccable et hôtes charmants.

Marie1723
12/26/2019

Pour découvrir le coeur du Périgord noir rien de mieux qu'une belle chambre au cœur d'une bastide luxueuse, le tout servi par des hôtes aux petits soins.... les Bories... read more de Marquay ! Le soin apporté à l'accueil et la qualité des produits servis ne vous laisseront pas insensible. Merci à Nathalie & Eric

P5660GAnicolasd
12/27/2019

Éric et Nathalie sont des hôtes très chaleureux et accueillants. Le cadre est magnifique ; les chambres sont spacieuses, confortables et très bien décorées.
Les produits du terroir proposés... read more à la restauration sont excellents.
Un séjour parfait et nous reviendrons certainement pour visiter cette superbe région. Plus

82amelieq
12/28/2019

Pour notre second séjours à Sarlat nous avons été gâtés par Eric et Nathalie. Un accueil exceptionnel, un cadre magnifique, des petits déjeuners qui donnent envie de se lever le... read more matin. Nous n'avons qu'une envie : revenir pour un séjour plus long ! Plus

Isabelle F
1/05/2020

Nathalie et Eric st des hotes chaleureux et prévenants qui savent mettre en valeur leur terroir. Le magret et la truite fumée maison : une belle réussite. Tout ceci ajouté... read more à une hospitalité sans pareil et à un cadre rafiné font de cette adresse une belle découverte.
L'adresse vaut le détour!

rgo33
1/01/2020

Superbe week-end dans cette maison d'hôtes au sein d'une magnifique propriété au calme proche de sarlat. De très jolies chambres spacieuses très confortables très bien équipées. Un super accueil d'Éric... read more et Nathalie qui nous ont régalés de leur truite locale et canard fumés maison. Je conseille vraiment cette adresse.

isabellebZ863XO
12/31/2019

Superbe demeure aménagée avec soin. Chambre spacieuse et confortable. Propreté irréprochable. Excellente cuisine préparée avec des produits du terroir sélectionnés avec soin. Merci beaucoup à Eric et Nathalie pour leur... read more accueil.

Carou87
12/27/2019
Our accommodation
We welcome you in one of our 5 comfortable air-conditioned rooms including 2 family rooms (4 persons).
Our 7-seater spa is available to all.
Discover our picture galleries
Based on 60 reviews